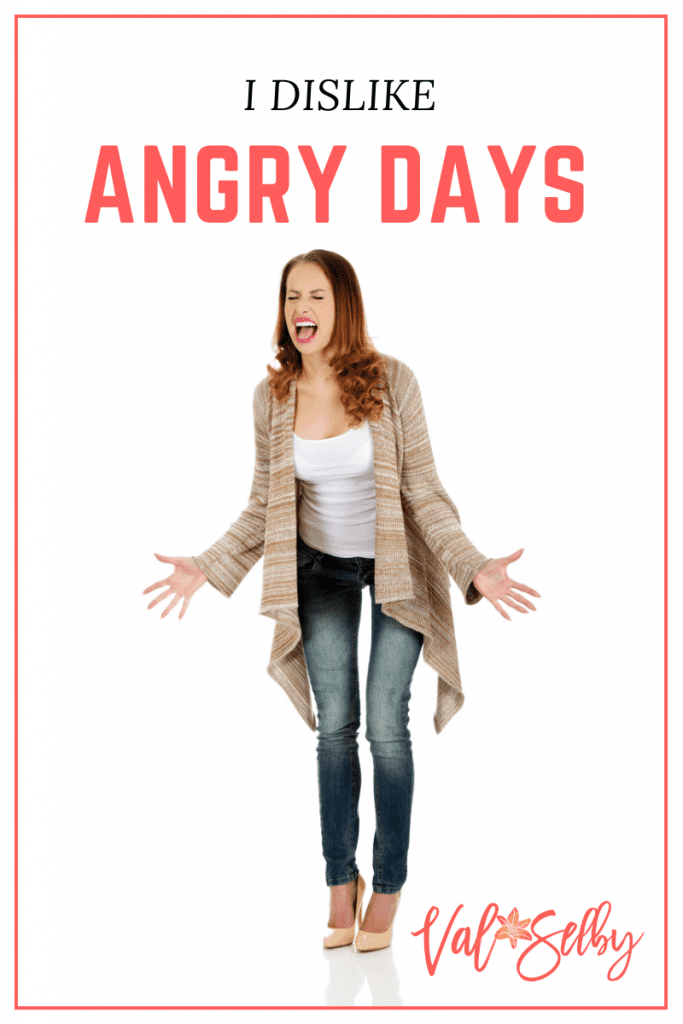 I'm an angry elf today. It bothers me quick when I feel this angry. I don't have it boil up as often as I used to so I really notice it. I'm real anger is at myself because I'm having boundary issues. Which has turned to me being angry at others as I project. Well all that sure turned into coachy terms. Let's try that in average words…
I'm angry because I suck at telling others what I need to change. Which is leading me to lash out and be angry at others, when the real culprit is I'm angry at ME. There, that's more like I'd tell you in a conversation.
Two years ago I decided I don't want to be angry Val anymore. Yes, there were hormones involved, technically the lack of, but it was much more than that. It was the fact I'd lost myself and the only way I knew to stay afloat was to fight. Metaphorically kick, scream, and bite to bring others down to this low I was in. Life had kicked my ass in a few short years and hormones were an easy scapegoat. They were a legit issue, but only on the surface. So I've done work and done more work and continued to work on me. It's work I enjoy 🙂 But as you work through things, new shit or old shit you buried, pops up. I'm at one of those moments.
I know I can only change myself.
I know this and I also recognize it will forever be something I work on. It's much easier to blame others than to look in myself. There's that freaking human thing showing up yet again…ugh.
When the thought pops into my head "they should know this by now" I'm pretty quick to tell myself NO, they should not know by now. Because I haven't said anything to make them aware. I haven't set a boundary on the topic and told people how I feel. If I did tell them previously it was probably in the heat of a freak out and no actual communication goes on during those.
I spent decades changing everything I ever wanted in servitude to my family. That is a fact that can't be changed and looking at it in a generalized way I would CHOOSE to do it again. I CHOSE to make them my top priority and I'd do it again. I'd just make sure I didn't lost myself in the process which is exactly what happened. There were years I wasn't lost and while their needs were a priority, so were mine. There are moments like now that I realize I still put everyone else's wants and needs first and it's not always making me happy any more.
What do I freaking want?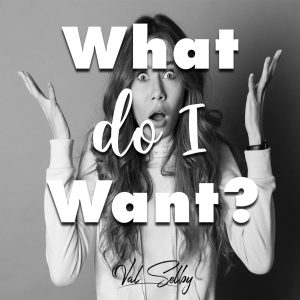 I'm looking at my calendar for next year and the only things on the schedule that are about what I want are business related. Yes, amazing fun will be had at these business events because I will be surrounded by many true friends. There will be fun stuff involved that is not work related, but still it's for business that I'm going.
Business can no longer be my work and my personal escape. I'm no longer ok with that. It's leading me down overwhelm street and I get cranky about things I normally wouldn't. Yet here I am, years into all this self-reflection, created the workshop even, and I'm at a loss!
Our family trips and vacations need to include my wants, not just his favorite things to do, excluding what he dislikes doing, as well as what other family wants to do and when. My family is not selfish, but if I can't make a decision for myself the years of putting my wants low makes it easy for me to come up with what would make everyone else around me happy.
And this is why I'm pissed at myself. I really have no idea what a vacation, trip or days outing that was all about what I wanted to do would look like because I buried it deep. I can not tell others or set a boundary because I don't know what I want to do. Which means I continue to choose doing what everyone else wants to do. It's easy to just go with that instead of putting the work in.
Wait? Easier? Is having these emotions that are working to ruin my day actually easier than sitting for an hour and working to figure it out?
That's rhetorical, don't worry about answering lol
There's a reason my What Do I Want? workshop is my favorite and I think everyone needs it. I go through the workshop myself every few months as I adjust to new challenges and realizations. Times like right now.
I'm running the workshop live December 10, 12, & 18th, 2019 and it's obvious to me I have some work again this time around.
If you already own the What Do I Want? Workshop then you'll get access to this live coaching. You, like me, are a work in progress so lets see what you come up with this time around 🙂
I'm revamping the workshop for the live group coaching. The workbook is being rewritten and the new sessions will be recorded. I'm looking forward to digging in live again because it becomes even more amazing each time I run it.
I hope you will take some time and join me for the What Do I Want?workshop. After decades of putting other people and things first, isn't it time you made yourself a priority?
Live Boldly,