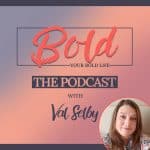 Once you embrace the ways you are amazing you begin to live your bold life. It's finding your Dammits (superpowers) and sharing them with the world.
It's freedom!
And we seem to find it around middle age.
Don't hit your elder years and be filled with regret for things you didn't do. Let's go out yelling how amazing our life was…that starts today.
Join the free 7 day challenge and realize that YOU ARE BOLD!
Live Boldly,