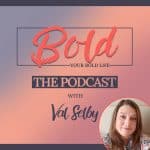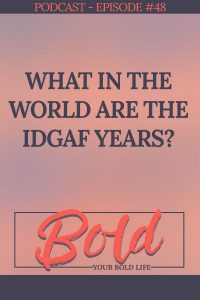 Oh the IDGAF YEARS!
I embraced this acronym fully as the definition of my 40's. I Don't Give A F*ck Years! I only do the weird spelling of it because I don't want the spammers tagging me lol
Blame Jennifer Burke for telling me the acronym. We talked about it way back on Episode #3: Is It The IDGAF Years?
These are the years that we finally decide to tell the haters to kiss our ass and we mean it. We embrace that their opinions and judgements can no longer have power over us. We take control of our own happiness more and more.
Not an easy transition, but damn the other side is A-W-E-S-O-M-E!
As I've talked to women here on the podcast and my clients, there is a very distinct trigger that sets us off into these years.
Are you elbow deep in the crap wishing you were in the IDGAF years or still wondering WTF I'm talking about and we should chat more? Leave a comment below and tell me about your 40's or hit me up privately val @ yourboldlife.com
Have a question about midlife or empty nest?
I just set up a new form that you can use and be anonymous if you'd like. Head to Podcast Questions.
Thank You For Listening!
To get more YBL content sent directly to your favorite listening platform as soon as they become available, subscribe to iTunes, Stitcher, Google, Spotify, Amazon, or Bullhorn.
Also, reviews on iTunes and the other formats are extremely helpful in getting future guests and ALWAYS HUGELY APPRECIATED! XOXOXOX I read every one of them and they help fuel me to continue sharing.
Make sure you subscribe to get the latest and a copy of the IDGAF Years: Happiness is a Choice.
Live boldly,