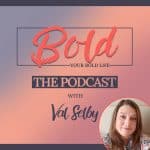 I was blown away when I looked up the definition of bold in the dictionary. I feel it showcases the reason we go through years of not knowing how to act and feel the need to change who we are. The definitions are contradictory.
We're told for so many years to go and be whoever and whatever we want. Encouraged to be us. Then somewhere along the line we're told that we shouldn't do it that way or be more like this.
It's time to stop changing who we truly are because of others.
We deserve to live life as our best selves.
Live boldly,