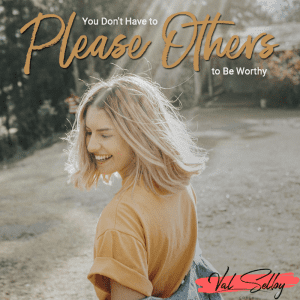 A little story, so you can picture how we crave approval and how easily it gets out of hand.
Let's say we have a unique tragic family situation. Jill's mom went to prison when she was just a baby. Holly, her older sister put her college plans on hold to raise Jill. Holly treated the little girl like she was her own daughter and provided for her every need. Holly was absolutely Jill's parental figure.
But, as Jill grew older, she feared losing Holly like she had her mom. So, she often went along with everything Holly said or did. It wasn't that she didn't have her own thoughts or opinions. She just never voiced them. A pattern was created.
When it came time for Jill to go to college, she went to the one that Holly liked best. She asked for Holly's advice on a major and immediately signed up for the one her sister had picked.
You Want to Be Liked
While Jill may have an unusual home life, situations like hers aren't uncommon. Everyone longs to be known and loved for who they are. This is a normal human need and by itself it isn't a bad thing.
But, if you allow the need for approval and validation to guide you, you'll end up living a life that isn't authentic. Like wearing shoes that are a size too small, you might be able to get where you want to go. But, you won't enjoy the journey nearly as much.
You Don't Want to Take Responsibility
When you need approval, it's easy to become passive. A friend asks which restaurant you want to eat at and you always say, "You pick." Or your sister wants to know which movie you should get tickets to and you always say, "I'll watch whatever you want to see."
If you're passive and go along with what everyone else wants, you may temporarily feel good because you received validation. But, the next day, the whole process starts again. That's an exhausting way to live.
There also comes a time when all of those instances you were passive build up and you feel like people are taking advantage of you. It's not that they are rude, it's that you taught them you want to do whatever they say. It leads them to not ask anymore and assume you'll go along with whatever their choice is. One day they will just skip right to the choice instead of asking you.
You Need to Ask Permission
Jill didn't realize the unusual dynamic in her relationship with her sister until a friend pointed it out. "You know you consult your sister before every major life choice," She said. "And I think it's sweet that you guys are close. But, don't you want to make decisions on your own sometimes? To throw caution to the wind and do what you want to do?"
If you feel like you can't make decisions on your own or have different opinions than your friends or family, you're most likely craving approval. Ask yourself why you feel like you need approval. Do you worry you're lacking in some area? Are you nervous about a new venture? Are you afraid of being told your idea or choice is dumb?
Getting to the heart of the issue can set you free. It can give you the confidence to make your own choices and bravely stand behind them.
When Jill's friend talked to her, she realized her relationship with her sister was out of balance. She was still treating her sister like a maternal parent and asking permission to do everything. She started working on making her own choices. The more choices she made, the happier she was with her life.
Terrified to rock the boat? Discover how to stop fearing what other people think when you join us in ME MONTH 2019!
Remember, happiness is a choice. Live with no regrets.